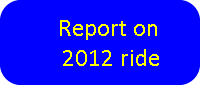 Bill Bradley Ride 2014
The ride will not be taking place this year - due to difficulty in securing a suitable start venue with sufficient parking.
Sorry to disapoint the many riders who have enjoyed the ride over the years.
Watch this space for 2015
Bill Bradley Ride 2013 - Sunday 21st July
Presentation on Monday 20th August
A good crowd at the Club Room for the presentation of a cheque for £3,300 to representatives of MacMillan Charity
With good weather on the day more than 300 riders enjoyed a great day out on the rides and in so doing raised in the between £2,500 & £3,000 for the MacMillan Nurses Charity.
As far as we know there was only one serious incident involving a rider who was taken to hospital by ambulance after an "off" at Hodder Bridge on the road between Waddington and Chipping. The result was a broken collar bone and cuts and bruises (but the bike was Ok!).
Thanks to all the organisers, helpers and Marshalls for the work put in to make the day a success.
Margaret Biggs at the top of the Trough of Bowland.

Margaret completed the 80 mile ride