Club Runs and meetings
Club Meetings and Club Runs
Southport Cycling Club meet in their clubroom in Victoria Park, Rotten Row (by the entrance opposite Beach Road) every Monday evening at 7.30 p.m. New member and vistors are welcome to attend the informal gathering. To find the location of the club room the postode is PR8 2BZ. Click here for map. (The club room is at the green arrow)
The Saturday morning club run of about 30 miles leaves the bustop on Preston New Road, near the Plough Hotel roundabout at 9:30; pedalling through Banks village to Tarleton at a lesuirely pace, and through the quite back roads to Croston village and on to the cafe stop at the Fettler's Warfe near Rufford for a brew. The return route over the moss arrives back in Southport by about mid day.
The weekday runs also depart from the Plough bus stop; Tuesday, Wednesday???, Thursday and Friday at 9.30hrs . The Saturday and weekday runs are covered at a more comfortable pace, so if you're new to cycling these runs are the way to start.
NEW NEW NEW - Woodvale Wednesday Ride
In view of the number of club members living South of town, we now have a Wednesday club run with the Grand Depart from Ainsdale Police Sation at 9.30.
Route--Formby-Altcar-Downholland-Clieves Hill-Ormskirk-Town Green-Burscough-Lathom-Mawdsley......Cedar Farm cafe stop.......return via...Curlew Lane-Martin Inn-Pool Hey-Scarisbrick. This would be a group ride, steady pace, staying together. It would NOT be a training ride!
The Sunday run leaves The Plough at 9:15hrs and Tarleton lights at 9.30hrs. It is for riders who are looking for a longer run - typically around 80 miles - with one cafe stop. It's normally ridden at a fairly brisk pace, however a 'groupetto' often forms if the 'sociable section' riders find the going up front a bit on the tough side and a less challenging cafe stop is chosen.
Anyone with a road worthy bike is welcome to join in.
Juniors
Club runs for Juniors and Schoolboys take place most Sundays. The start location is the Club room in Victoria Park (see link to map on this page). Meet at 9.15. a.m. for a 9.30 start. Bikes are available for loan if you do not have one of your own. Check with the Secretary, Ken Beck on 01704 228968 if it is your first time.
Youth Nights are alternate Friday evenings at 6.00.pm at the Club room.
Ladies Night -The Southport Belles
The Southport Belles meet at the club room alternate Tuesdays from 7.00.pm to 9.00.pm. Organised rides are the following Saturday. For more information click here or e-mail thebelles@southportcc.co.uk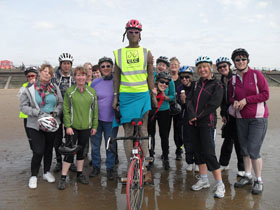 (If you use GOOGLE CHROME or if you think the "frame" on the right is not up to date, put the pointer in the frame, right click and look for "reload frame" or refresh)