GARMIN SHARP RIDE OUT 2013
I was recently lucky enough to get a place on the Garmin Sharp 'Ride Out' organised by Garmin UK. I got my place through the ballot so considered myself very lucky to be among the 200 people gathering at the UK Youth Avon Tyrrell activity centre in the New Forest on a wet and warm Friday morning. Garmin have put this event on for the last few years to coincide with the Tour of Britain. They bill it as a chance for their pro team riders to give something back to the fans, and the whole day was certainly in that spirit. The highlight of the day was to be a 50 mile ride through the New Forest in the company of the pro riders and assorted other special guests. However, the whole day from start to end was a well run and extremely fun occasion.
After registration, which included possibly the best goody bag ever (including in my case an extra piece of luck in being a random winner of some free kit) there was time to peruse a variety of demo/vendor stalls. Muc-Off were giving demos of their cleaning products whilst of course, Garmin were demonstrating their cycling related GPS units. Indeed you could also hire one free of charge for the ride (I'm already an Edge 810 user.) Mavic mechanics were also giving bikes a fettle on request. In a larger marquee area, Garmin's UK Fitness product manager gave a good demo of the features of Garmin Connect. In the presentation and Q&A he openly admitted that progress with Connect hasn't been as fast as they would like. He also talked about some of the upcoming features they are working on, including better elevation/gradient features in activity views and course planning, as well as more social/discovery features. All of which should help bring Connect more in line with some of the competition that have moved faster and which, frankly, have taken mind and market share. It will be interesting to see if Connect can tempt me back from being an avid Strava user.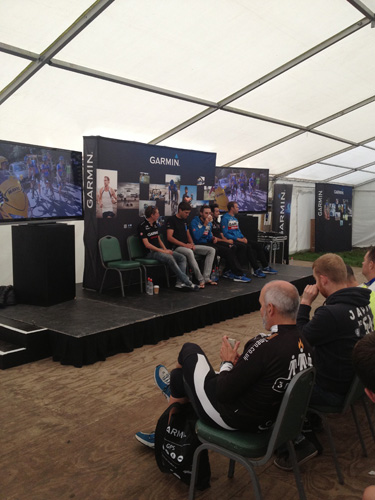 Next up was no less than Phil White, the founder and CEO of Cervélo – the Canadian bike company that of course provide Garmin Sharp Barracuda with bikes (after Garmin and Cervélo Test Team merged for the 2011 season.) Phil talked about how he and Gerard Vroomen started the company as cycling enthusiasts but primarily as engineers. He then discussed advanced in carbon-fibre technology and some of the innovations they have brought to the cycle industry, especially in terms of testing. He claimed Cervélo were the first company to actually factor in the rider in frame testing! Finally he talked about aerodynamics and how Cervélo have innovated in this area through use of Computational Fluid Dynamics and other wind-tunnel analysis, especially focussed around the development of the P5 time trial/triathlon frame. He talked about "foam Dave" – a laser modelled replica of Dave Zabriskie used to achieve consistent and repeatable tunnel tests.
During the Q&A, I asked Phil if he thought the UKSi bikes used by Team GB at the Olympics were likely to be superior to commercial products given their hype, or whether it was just smoke and mirrors. He answered that he hadn't obviously been able to obtain a UKSi bike, but he was pleased that David Millar, the Garmin rider and Team GB road captain, was not pressured to ride one of the UKSi creations and chose to ride his Cervélo S5.
Next were Felix English and Luke Mellor from Rapha Condor Sharp. They were thrown in at the deep end a bit but made a good fist of their Q&A and came across as hungry young pros. By this time most people were getting hot and sweaty in the marquee and increasingly eager to get out on the road. The ride briefing kept some interest, but thankfully the Garmin team arrived and waited outside. I took this opportunity to get a quick photo with Dan Martin, as everyone seemed to have not noticed him. Only down side to this was that I didn't recognize Nathan Haas (Tour Of Britain 2nd place GC 2012) thought he was just staff and asked him to take the picture. Imagine my face when he was introduced on stage!
A short interview commenced, covering the year so far, before the questions were opened up to the floor. Naturally most were aimed at Dan Martin, but in the spirit of the occasion it was good that nobody asked anything too testing or controversial. The funniest thing was the rain had started to hammer outside during the Q&A, and the looks on the Pro's faces was priceless. You could almost hear them thinking "Oh great, I'm racing on Sunday and now I've got to try and survive wet, narrow roads with a bunch of weekend warriors!" So, onto the main event. We were set off in groups of about thirty. Unlike what I've read about previous years, there was no attempt to segregate groups by expected speed, which was good. I ended up in the first wave out, and we had Nathan Haas along with us.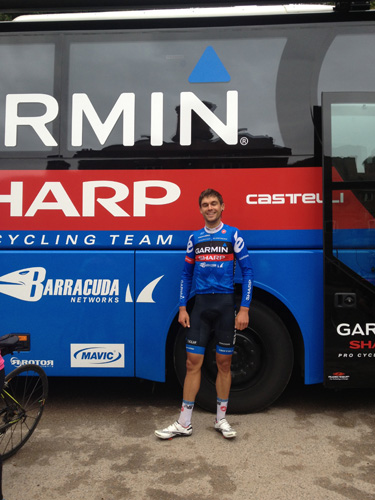 I managed to have a chat with Nathan about his season, life and his goals for the Tour of Britain (it has been one of his main goals all year) and his targets for 2014, and also apologize for just handing him my camera. The pace being set was quite stiff (19.5mph avg) and it was clear that Nathan was quite happy to go at the pace of the group they were with. I can't say enough about what a top guy Nathan Haas turned out to be on the day, he was chatting away with everyone near him, talking about everything from Christmas coming, to how many kids everyone had, it was just amazing. Even when one of the group came down hard on a wet cattle grid, he stopped the group, he turned us around and he was first off helping the guy back to his feet.
The second half saw me ride with the smaller group of Haas (11 or so), which had split at the half way feed station as the pace was too much for some of the mixed group. This lead to me being on the front with Nathan for most of the rest of the ride, which was great for me as it felt like my own personal training session with a pro. But it got a bit embarrassing after a while, as I felt I was taking up to much of his time. I said "I'll drop back and give someone else a turn", to which he replied, "No, stay there. You can hold a line and I feel like your not going to take me out" That made my day!
I stuck next to him for the rest of the ride until about 3 miles from the finish were we hit a long straight false flat, with a slight head wind. To which he started to turn the screw, all I could hear were his gears going, CLICK, CLICK, CLICK. I looked at my Garmin and we had turned it up to just under 30mph, and riden the group off the wheel. I then looked at him to see he was taking a drink sat up. I'm thinking "I'm at 'Threshold' and this guys still in his 'Base', to which he put his drink back and then dropped me like a bag of washing. But I can say I've never felt that good at being 'dropped'.
After that the group came back together and we all rolled in together with smiles all round. Post-ride hot food was provided from a massive buffet as every relaxed and swapped stories, at which point Nathan Haas came over and joined us to eat, before people started to ebb away. I asked him if he could sign some stuff for me, he said come by the bus and I'll get the whole team to sign everything. Like I said, really great guy.
A massive thank you to Garmin UK, the Garmin Sharp Barracuda team and everybody else involved in the day. Of course, events like this are always PR exercises but this really felt like it was aimed at giving back to the fans. Judging by the number of people wearing Garmin kit, riding Cervélos and generally having an awesome time, it is well worth the cost and effort. Given the amount that people pay for a far inferior experience at a lot of UK sportives this event really stands apart. Other pro teams could do well to follow the example. I hope I get lucky next year as well!